Your beauty secret is safe with us ...
Beauty Beyond!
We are very pleased to introduce you to the distinctive cooperation between two of Vienna's renowned establishments, the Hotel Bristol and the Kuzbari Center of Aesthetic Medicine.

For almost 130 years now, the Hotel Bristol has been the epitome of very personal service and Viennese charm. It is an exquisite example of the Luxury collection, the luxurious brand of the Starwood Hotels & Resorts which provides excellence around the world. Individuality and authenticity blend to form a collection of unique experiences.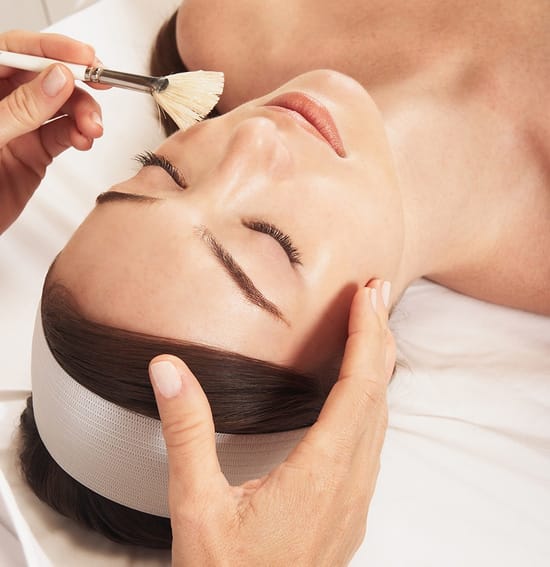 The Kuzbari Center of Aesthetic Medicine sets the highest standards around the world in the area of beauty medicine. It offers top notch medical perfection in plastic surgery, dermatology and cosmetics.
Let yourself be beautiful. We wish you a wonderful stay.
Benefit from the following advantages:
Highly effective cosmetic treatments developed especially for travelers to overcome jet lag or to shine at events

Special rates for individual cosmetic treatments

Multilingual beauticians and doctors with international experience

Proximity to the Hotel Bristol; the Kuzbari center is situated right across from it

Special discounts on daily rates when staying at the Hotel Bristol (except christmas, New Year's and Vienna opera ball)

Bookings possible before arrival through the concierge

Airport transfer may be arranged as needed
1. Arrival
Jet Lag Recovery
Perfect treatment after a flight. This regenerating and stimulating anti-stress and anti-ageing treatment uses carefully chosen vitamins which are gently infused into the skin with aquabrasion. Free radicals are fought effectively and stressed skin is given new vitality. This stimulating treatment concludes with a relaxing facial massage.
Vitamin Booster
Prevention and protection with professional detoxing. This sophisticated skinceuticals treatment with highly concentrated vitamins gives your skin fresh energy to fight off free radicals and protect cell structures. A vitamin C mask detoxifies completely thereby stimulating the formation of fresh collagen. Your skin glows with new elasticity and vitality.
2. Evening Out
Best Evening Look
Glowing complexion for the evening. A gentle peeling removes dead cells on the skin's surface and gives your face a fresh glow. The glow effect is amplified by a highly concentrated hyaluronic acid mask, which smoothes fine wrinkles. the facial massage that follows makes you feel refreshed and relaxed for the evening.
Lunch time Peel
The fast glow. A gentle peeling gives your skin a little boost for beautiful, smooth and radiant skin. a hyaluronic acid serum concludes the treatment and leaves the skin feeling pleasant and radiating new freshness.
3. Indulging
Anti-Ageing in Vienna
A fountain of youth for your face. This stimulating treatment is designed to reduce signs of lightinduced skin ageing and to smooth fine wrinkles. Thanks to the combination of IPL (Intense Pulsed Light) with a highly effective vitamin cocktail, pigment irregularities are removed, collagen formation is stimulated, and the skin is rejuvenated.
Skin Clear (also for youths and children)
The ideal treatment for troubled skin, large pores or blemishes. After a professional cleansing, there is a gentle aquabrasion with ultrasound to prevent impurities. To conclude, a calming, moisturizing healing mask is applied. this is a refreshing and cleansing treatment with a long-lasting effect.
Even Skin Tone
The intensive treatment to combat pigment irregularities. Gentle fruit acids promote the exfoliation of old cells and fight dull complexion. During this special skinceuticals treatment, active vitamin A and vitamin C are transported deep into the layers of the skin with a view to alleviating pigments changes in a targeted and sustainable way. Your complexion will become more even and regular.
What we offer and how you benefit:
Medical Excellence
Our highly specialized dermatologists and plastic surgeons are available to answer your individual medical questions.
Nutrition
After an operation, guests receive special meals rich in proteins and vitamins which help the healing process and ensure the best possible result.
Discretion
Access to the Kuzbari Center is through a discreet side entrance. If you like, a personal pick-up service can be arranged.
Patient Service
Ice to cool the treated area, additional pil- lows and hand towels are delivered every day to your room in the Hotel Bristol. Our doctors are on call 24 hours after operations so that you feel comfortable and safe.
Range of services Kuzbari Zentrum
Surgical Services

Eyelid correction

Liftings

Rhinoplasty

Breast surgery

Body forming

Non-Surgical Services

Fillers & Botox

Laser

Peelings

Ultherapy

Cool Sculpting
Course of medical assessment and surgical services
1 Skype Consultation
Every operation starts with an extensive initial conversation. This is quite easy to facilitate from home via skype. This way we get to know each other and talk about your wishes, any concerns and other possibilities.
2 Preoperative Phase
You arrive in Vienna two days before the operation. If you like, the transfer to the Hotel Bristol can be organized. On the same day, there is an extensive talk with your plastic surgeon. The preoperative medical examination happens the next day (internal release).
3 Operation
Depending on the complexity, the operation is done either right in the modern operating room in the Kuzbari center or in the renowned Rudolfinerhaus, a private hospital. You will stay up to two nights in the hospital. When you are released, our chauffeur will drive you back to the Hotel Bristol.
4 Postoperative Phase
Depending on the operation, you will recuperate at the Hotel Bristol from 4 to 14 days and will go to the Kuzbari center several times for discreet follow-up visits. You will receive special menus rich in protein and vitamins which support the healing process and ensure the best possible results. Moreover, ice for cooling and additional pillows and hand towels are delivered to your room daily. If required, our nurse visits you.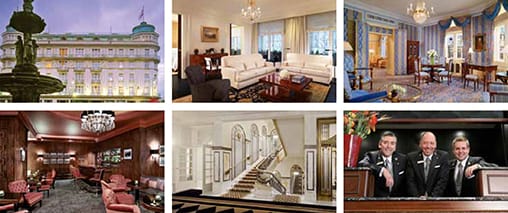 STYLISH LIVING IN THE HEART OF VIENNA
At the Bristol Hotel, valuable fin-de-siècle antiques and the noble art Deco ambience blend harmoniously with state-of-the-art technology and ensure guests have an unrivalled stay. with 150 exclusive rooms and suites, including the legendary Prince of Wales suite, the Bristol offers excellent, cordial yet discreet service which makes for an unforgettable Viennese experience.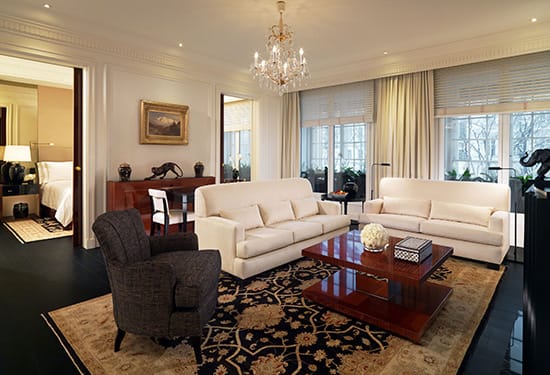 ROOMS & SUITES
Rooms and suites that offer more. In our hotel you have virtually the best box seats for the Vienna State Opera. Tis view which was granted to just a few was once enjoyed by famous guests like Gustav Mahler and Herbert von Karajan. The fate of the Opera House, which is situated right across from the Bristol, once rested in their hands; and they became regular visitors to the Bristol who were always welcome. The newly-built Bristol suites in the mezzanine were appointed by the renowned Paris designer Pierre Yves Tochon in Art Deco style and underscore the Hotel's special character and the historical ambience.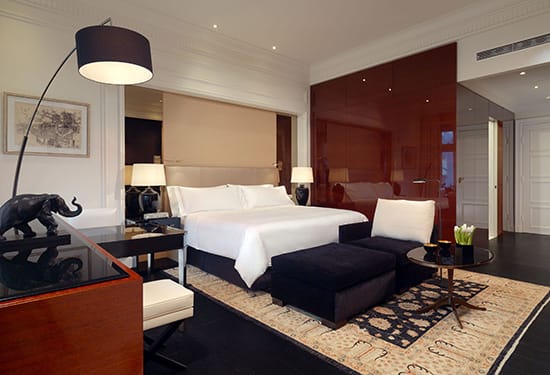 BRISTOL LOUNGE
The generous Bristol Lounge, our modern restaurant that features all day dining offers the best breakfast variations, light lunch cuisine and small snacks for in-between. in the evenings, you can enjoy a unique dinner atmosphere. It goes without saying that we offer special menus upon request.
BRISTOL BAR
As one of the oldest American bars in the city, the Bristol bar is a favorite meeting point and legendary location for Vienna's incrowd.
CONCIERGE SERVICES
Award-winning service: The Bristol concierge Team under the management of head concierge Dieter Ludewig has been awarded a total of three Clefs d'Or. The famous golden keys symbolize the epitome of service at the highest level and guarantee the ultimate in guest service.
Arrange a consultation.
To be able to answer your very personal questions we have allotted time exclusively for consultations. Just arrange an appointment under the number +43 1 358 28 02 or by using our contact form.